The automaker, Mercedes-Benz has unveiled a new concept electric vehicle "Vision EQXX" which it claimed would use less than 10 kWh to travel 62 miles on public roads, delivering efficiency of more than 6 miles per kWh.
Mercedes said during a digital reveal ahead of the CES tech trade show that the Vision EQXX is meant to be the foundation for its future electric vehicles.
Mercedes-Benz Vision EQXX is expected to beat the range of the Lucid Air Dream Edition by more than 100 miles and the Tesla Model S Long Range Plus by around 220 miles.
Mercedes-Benz head, Ola Källenius said that Mercedes-Benz Vision EQXX is how the company imagine the future of electric cars,
Mercedes said that the Vision EQXX would use below 10 kWh to travel 62 miles on public roads, delivering an efficiency of more than 6 miles per kWh. Converted into fossil fuel consumption, the automaker said that's around the "golden figure" of 1 liter of gasoline per 62 miles.
The electric-only chassis features a lightweight F1 (1,750 kg or 3,858 lbs) that has been aerodynamically optimized and notably the vehicle is outfitted with a 900-volt electric architecture, which Mercedes said proved to be an extremely useful research tool for the development of power electronics.
The battery is has a capacity of almost 100 kWh and ultra-thin solar panels on the roof that can add up to 25 km (15.5 miles) of range.
"The battery has almost the same amount of energy but is half the size and 30% lighter. The battery management system and power electronics have been designed with an absolute focus on reducing losses. In achieving this efficiency milestone, we learned a lot that will flow into future development programs."
Daimler AG board member and Mercedes-Benz AG's CTO responsible for development and procurement, Markus Schäfer said "They are proving that innovations from motorsport — where powertrains are already highly electrified — have immediate relevance for road car development."
The automaker said that, with a drag coefficient of cd 0.17, the EV is more aerodynamic than a football (which has a cd of 0.18 to 0.2).
The interior of Vision EQXX's infotainment system has a single 47.5-inch, mini-LED 8K screen, it spans almost the entire width of the cabin, though this is a one-piece display. The automaker worked with NAVIS Automotive Systems on a navigation system with zoom and scroll functions that include a satellite view. The "Hey Mercedes" voice assistant is integrated into the infotainment system too.
Mercedes-Benz VISION EQXX interior. | PHOTO CREDIT: MERCEDES-BENZ
The exterior shows off a sloping front with a gloss-black grille with rose-gold highlights, plus a 2D star pattern on the front bumper. The headlights have two star-shaped elements with the larger one housing the low-beam and high-beam light arrays behind a center lens.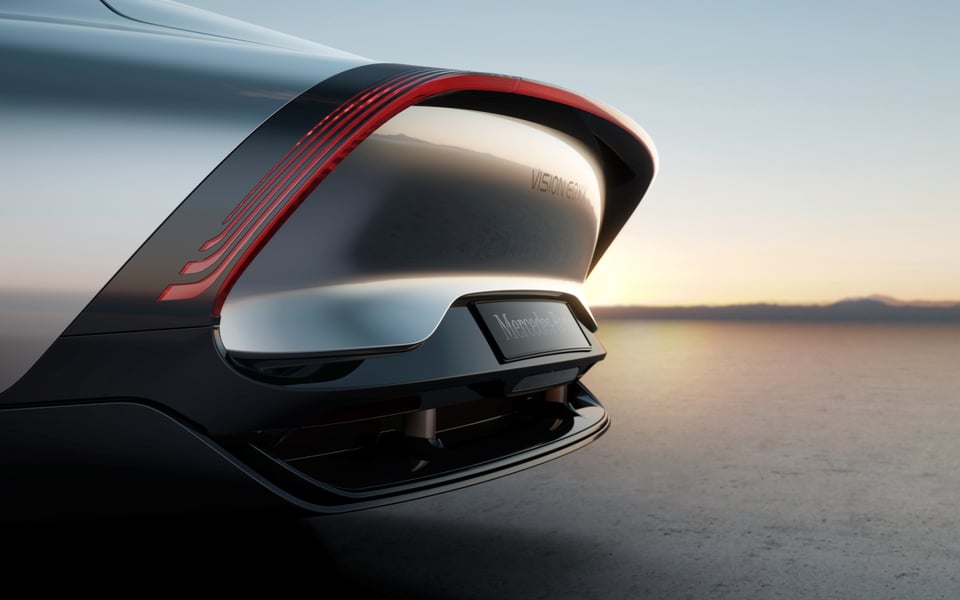 Mercedes-Benz VISION EQXX, exterior. | PHOTO CREDIT: MERCEDES-BENZ
Mercedes said that this star arrangement and the 2D star pattern on the bumper offer a preview of front-end design detailing that will be featured in future models.