Ado-Ekiti, the capital of Ekiti State was thrown into mourning on Tuesday, December 7, 2021, as the stabbed body of seven-year-old Demilade Fadare was discovered inside a neighbour's freezer.
Demilade, whose parents are residents of the Adehun area of the state capital had earlier on declared her missing.
According to sources, Demilade had earlier been sent on an errand on Monday, December 6 only for her not to come back home.
It was after she did not come back home that her parents raised the alarm of her disappearance and after a thorough combing of the area, her corpse was found Tuesday morning deposited inside a neighbour's freezer with several stab wounds.
Neighbours revealed that the house where her corpse was discovered at Bolorunduro Street, Adegun area belonged to a pastor but he and his wife were not around which made further searches by law enforcement agents impossible.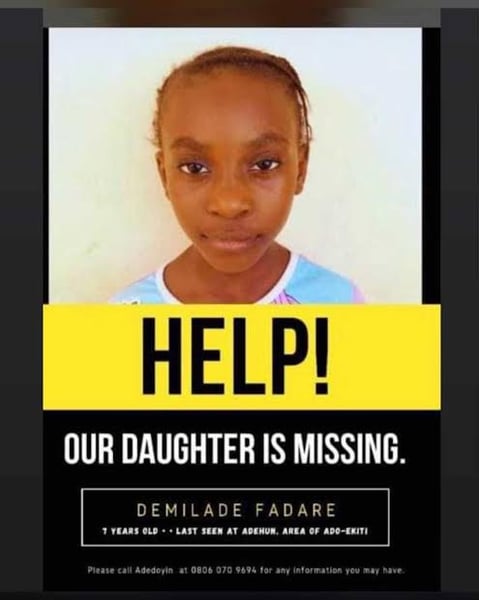 They said the house where she was found belongs to a pastor at Bolorunduro Street, Adehun area and the pastor said his wife was not around so the policemen couldn't search the house.
Even though the pastor and his wife were not around, the enraged residents in their rage set the house alight.
A neighbour who pleaded anonymity however told AllNews that Demilade was not kidnapped as was presumed.
She disclosed that a lunatic girl in the area took Demilade and killed her and stored her in the freezer.
The source also revealed that a few weeks back, the same lunatic girl hit her father on the head.
According to the source, "When the incident occurred, people did not believe her father's account not until neighbours corroborated the story."